In October 2020 we were thinking ahead, our thoughts guided by the fact that most people with MND end up as wheelchair users. When I get to that stage, what sort of wheelchair should I get? Presumably it would be powered (as my arms are already really weak)? Where do we get that from? How will I access my bed and a shower if I can't use stairs? What about hoists? Should we convert the garage into a bedroom and shower room? Is it possible to get a lift for a wheelchair? So many questions.
We sorted through the questions one by one and quickly ruled out the idea of converting the garage. For one thing, it would cost a fortune and we don't qualify for any disabled facility grant funding. Secondly, what happens to all the stuff in the garage? We'd need to have a huge new shed… and so it would go on.
Yes, you can get a lift for a wheelchair and we worked out that one will fit in our dining room with an exit into the room above (currently our study). The bathroom is next to that room, so the long-term plan became clearer. Convert the bathroom to make it fully accessible, change the study back into a bedroom with a 'hospital bed' and a hoist if required, and install a wheelchair lift from the dining room below.
We looked at lifts supplied by various companies including Stiltz, Stannah, Wessex and Terry and salespeople came around and gave us 'COVID secure' quotes. The Stiltz lift looked fabulous with lots of glass and lights. Later we realised that it's not actually big enough to accommodate a power wheelchair! You could get a compact 'manual' wheelchair inside but nothing bigger. I read a review written by someone who had ordered a £18,000 lift that was too small to use. Didn't fancy making that mistake!
So how big are power wheelchairs? I looked on the MND Association website and at the time they recommended three wheelchairs specifically suited to people with MND. Another research project began. It wasn't clear what the overall length is of one of the three recommended wheelchairs, so I contacted the manufacturer. The manufacturer put us in contact with a local supplier. The supplier was excellent, and the guy brought round three wheelchairs for me to try at home with no obligation. We received a quote for my favourite priced at a shade under £11,000. That's another huge amount of money to fund out of savings.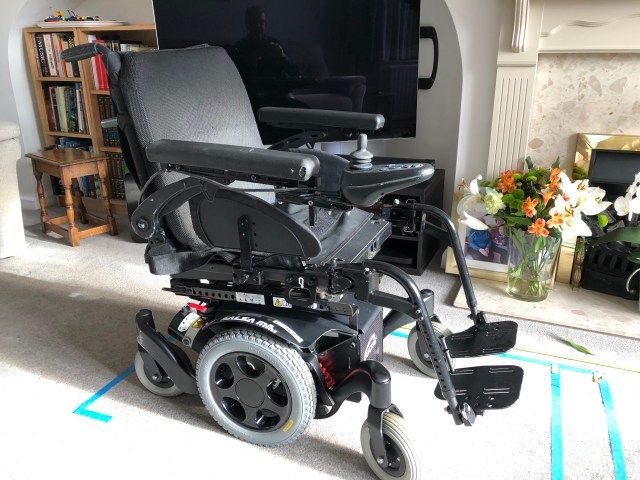 My community OT referred me to the NHS wheelchair service – organised in Hertfordshire they are supplied by a specialist company called Millbrook Healthcare. When I had my assessment by Millbrook it quickly became apparent that I could get the equivalent £11,000 wheelchair supplied free of charge from them. A good result – it's on order and will arrive soon (before it's needed). The advantage of taking the NHS supplied wheelchair is that the costs of maintenance and future modifications will all be covered… and you save a fortune.
So we have a longer term solution for a properly equipped bedroom, accessible bathroom, wheelchair and wheelchair lift.
In the short term, we're going to rent stair lifts to take me from the ground floor to the first floor and then from the first floor to our en suite bedroom.  It's April 2021 and the stair lifts are needed – I'm feeling quite unsafe coming downstairs now.