Stormy February draws to a close with brilliant sunshine!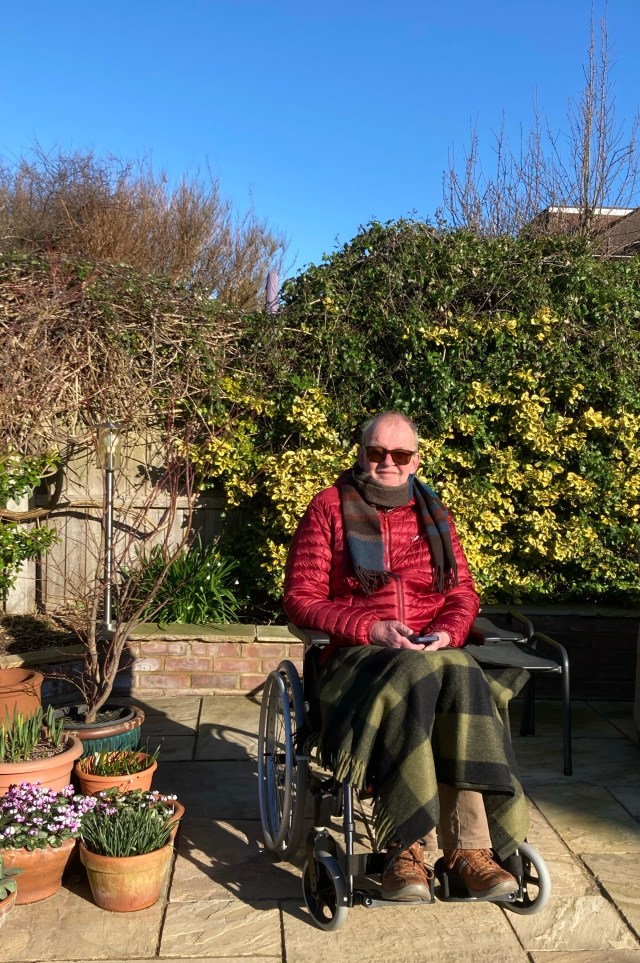 On Friday 18th both our house and static caravan were in the red weather warning area for high winds; thankfully we escaped unscathed. The day before we'd been back to the National Hospital in Queen Square for a routine respiratory consultation. My 'peak flow', cough and sniff functions have all deteriorated, but the specialist nurse was happy that overnight use of a ventilator is keeping my oxygenation up and CO2 level down. So that's positive news. It's amazing how they can download data from the modem installed in my ventilator. They can check the various settings, see the times of use and even the amount of leakage from around the face mask.
The consultant told me that they'll happily provide a second ventilator as a spare. This would also allow me to have one upstairs and one downstairs for the times (probably fast approaching) when I'll need to use the ventilator during the daytime too. He also emphasised the fact that use of the ventilator is purely voluntary, and I can withdraw my consent at any time. When I'm much further down the MND track, giving up the ventilator will lead to death in quite a short period of time. I'm happy having this knowledge, in fact it's quite reassuring to know that there is an exit route at the right time.
Before my respiratory consultation, I was lucky enough to be able to have a second round of Botox injections delivered by the MND Consultant Nurse, who had rearranged her diary to accommodate me. Incredible care in such a busy hospital. Hopefully the injections into my salivary glands will help this time to reduce the continuous problem of excess secretions. Daytime floods of saliva and at night-time a drought.
To counter the night-time drought, I have now found Oralieve Gel which works well if smeared all around the inside of my mouth. Last month I mentioned Xylimelts as a good option, but I found they could detach from my gums during the night presenting a bit of a risk of choking.
Two days later, I drove my power wheelchair out of its overnight parking space in the living room. Unfortunately a hook on the back (for a shopping bag) attached itself to the curtain pull cord. As I sped forwards there was an almighty wrenching sound as the curtain rail, complete with curtains, came crashing down behind me. These electric motors develop an incredible amount of torque, and the incident demonstrated yet again how much extra work MND creates!
The NHS Regional Environmental Control Equipment Service, based at Hillingdon Hospital, arranged for my Housemate device to be reprogrammed to enable me to control my rise and recline chair downstairs and my hospital bed in the study. It's been increasingly difficult to operate the chair recently.
I'm pleased to say that the RECES team is going to be with me when I'm provided with a £7,000 TD Pilot iPad Pro based eye gaze device on 7th March. Four months after first seeing and trying the device, the day can't come soon enough! Thanks to the NHS CASEE and RECES teams for joining together to support me.
On 25th March coincidentally two ramps were installed for me. One allows me to access the patio from our back door in my power wheelchair. The second walking ramp has been built at our static caravan to enable me to get inside now steps are impossible. Two liberating (and expensive) jobs done.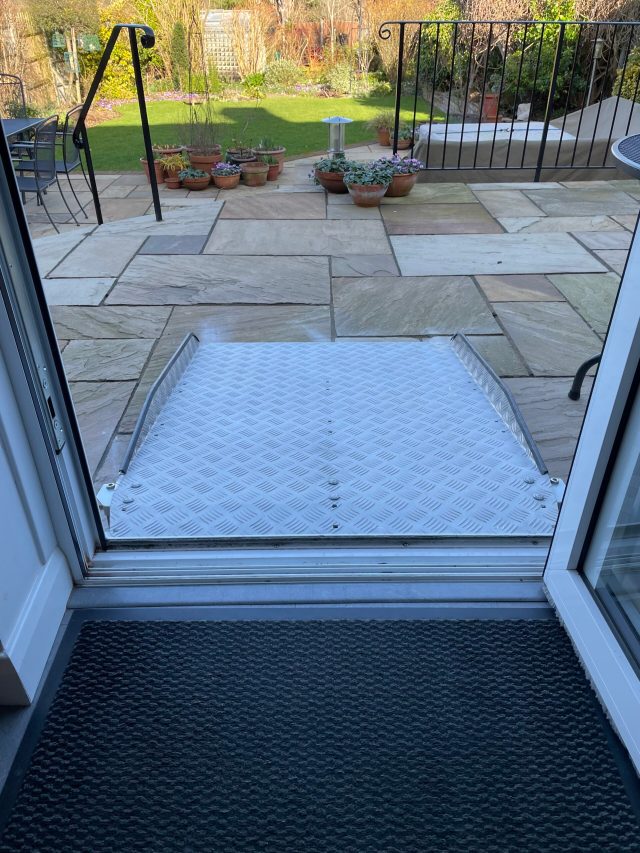 The most extraordinary thing happened on Sunday. I was out in my power wheelchair and a car pulled onto the pavement in front of me to stop outside a house, totally blocking my path. When she realised that she would have to move, the woman who was driving made a very angry face, slammed the car into first gear, and skidded off the pavement in front of me. As the car landed back in the road there was a nasty sound as the underside of the car scraped along the edge of the pavement. Luckily for her I can longer speak or gesticulate!
Finally for February, I've written a page detailing the steps I've taken to plan ahead. Great to get things organised and done. Positive progress.