This month's title is a line from the Act Two Finale of Gilbert & Sullivan's 'The Mikado'. It accurately describes some of our experiences in May.
The highlight of the month was when friends from Abbots Langley Gilbert and Sullivan Society performed a concert for all our close family at home on a sunny Saturday afternoon. It was a joyous occasion with songs from G&S operas, Carousel, Gypsy and Rent. Afterwards we all enjoyed wine and snacks in the garden. I have been a society member for over thirty years, served on the committee for over twenty, and have the honour of being a Vice President. This was a very special day.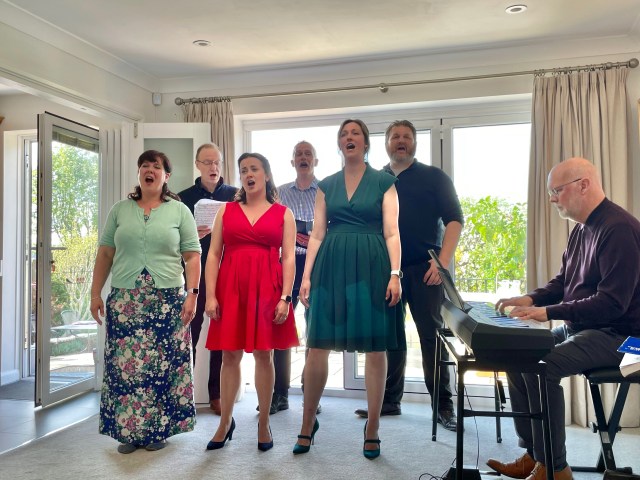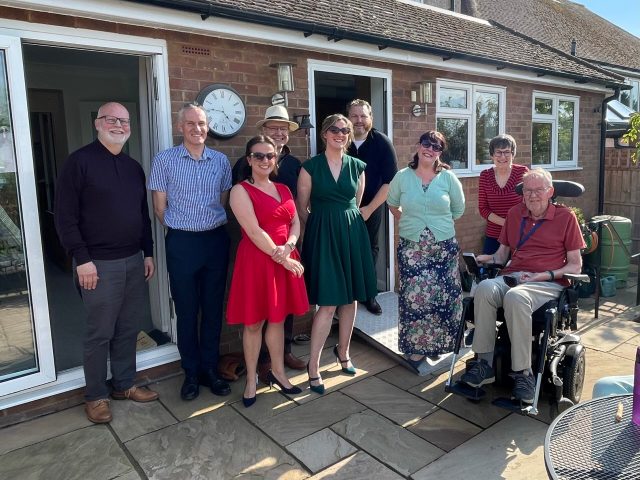 Our first merry dance was one afternoon when I slipped forwards and onto my knees when Sue was trying to lift me off the tall Mowbray seat on the toilet. It's impossible for me to stand up from a kneeling position – my leg muscles are just too weak. It's also impossible for Sue to lift me up. Sue somehow managed to pull my pants up and we contemplated phoning for emergency assistance. At that moment the doorbell rang. Two carpenters who were coming to give us a quote for a new long ramp in the garden had arrived early. A funny way for them to meet a new customer but they quickly managed to solve the problem and got me onto my feet!  These guys were fantastic and just six days later we had an amazing new ramp outside, thirty feet long, which descends the equivalent of three steep steps. It means I can now explore the whole garden in my power wheelchair. A truly liberating change for the better.
I mentioned that my legs are weakening. My arms and hands are now practically immobile and I am finding it extremely difficult to hold my phone and write this post with my right thumb. So posts in future will be a lot shorter as I will have to write by selecting one letter at a time using eye gaze.
Another big recent change is that I now need to use my ventilator nearly all the time. In fact, the only time I don't need it is immediately after waking up in bed for about an hour. At all other times I feel very short of breath, particularly when standing. Accompanying the breathlessness is anxiety and mild distress. Not nice. However I now have two ventilators, ostensibly one for use as a backup, although we're starting to use one upstairs and the other downstairs and outside. I also was issued with a cough assist machine for use when needed. It rapidly blasts air in as you inhale. Two seconds later it rapidly sucks air out. There are two tricks to learn; inhaling and not swallowing the air coming in, and actually attempting to cough on the rapid exhalation. I'm practising.
Our second merry dance in May was another very uncomfortable night at the caravan. At 3am we both concluded that we just can't continue with the severe difficulties of being away from home any more. We are selling up and I have now left our home from home outside Wareham in Dorset by the River Frome. We have enjoyed eight wonderful summers there and have many cherished memories, but all good things sadly come to an end.