May was officially 'Mobility Month'.  The first set of wheels to arrive was my Invacare TDX SP2 power wheelchair supplied by Millbrook Healthcare on behalf of the NHS.  This is a really big beast weighing in at 180 kilos; it's great and it will transform our lives.  I am still able to walk a bit, but it's slow and a bit jerky and unsteady.  It's also very tiring and if I were to fall, my arms certainly aren't strong enough to prevent a head injury.  I've already experienced that and it's not an experience I want to repeat.
The power chair has 'tilt in space' and 'rise and recline' functions, and also attendant controls.  It was built to MNDA specifications, and it was readily available.  Evidently it had been ordered for another client who sadly didn't live long enough to take delivery.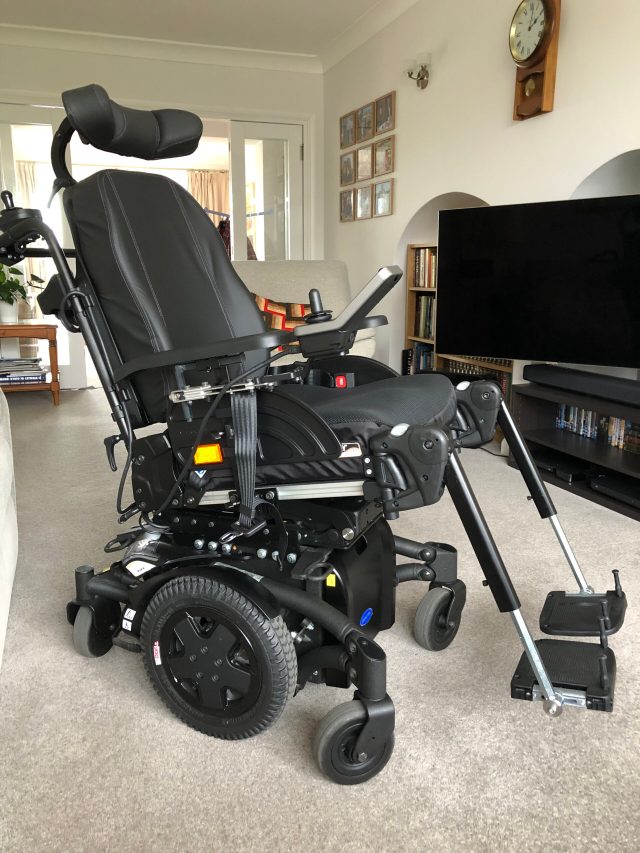 We had previously worked out that it would be impossible to get a power chair into the house in a conventional way – up one small step, over a threshold into the porch, then over the larger front door threshold into the hall.  So our plan has always been to have a 3.5 metre long ramp installed in the garage giving easy access into the back of the kitchen.  The really solid ramp was built by a recommended contractor in a couple of hours with a £1,000 contribution from our Herts Adult Services OT consultant.  The balance of £365 was VAT free as the work was health related.
The next set of wheels to arrive was our wheelchair accessible vehicle provided under the Motability scheme. We received amazing service from Clarke Mobility based in Aylesford, Kent. The WAV is a Peugeot Rifter converted by Allied Conversions. It's a 'nearly new' vehicle, less than six months old, with only 1,000 miles on the clock. The upfront cost to us was just £895 and the monthly lease cost for three years is deducted from my PIP benefit (Personal Independence Payment). This is an amazingly good deal.
You drive the wheelchair up the inbuilt ramp into the vehicle and it's then tethered safely.  In addition to the driver and front passenger seat there's a single passenger seat in the back next to the wheelchair space.  For the time being I'll be sitting in the front, but it means we can take the wheelchair with us wherever we want, and we'll be able to go for 'walks' as in the past. Walking just a few steps at a really slow pace hasn't been much fun for Sue.
The third set of wheels received is a shower wheelchair. It's now very difficult for me to raise my arms enough to enable me to wash my hair; this will be another job for Sue in the near future, and the shower wheelchair will be invaluable. Grateful thanks to the Herts Community NHS Trust for this.
On Wednesday 9 June I'm being admitted to hospital for a respiratory assessment. My breathing is quite badly affected by MND now as measured by my 'peak flow' and oxygen SATs. I expect to be given a non-invasive ventilator to push air deeper into my lungs at some stage. In other respects, the progression of the disease is relentless but possibly slower than I had imagined. I can still eat a reasonably normal diet, I can still speak reasonably coherently, but my arms and hands are noticeably weaker as the weeks go by. It is very frustrating to have to ask for help every time I want to pull my trousers up! Thank goodness it's now summer – shorts are a great deal easier to put on.