Back to the National Hospital in Queen Square to be provided with a cough assist machine because my cough is so weak now. That was the plan.
Travelling to and from the hospital was a dream this time because the South Herts branch of the MND Association now covers the cost of hospital transport by taxi. This to some extent is the case because readers of this blog either generously sponsored our son Alex in his quest to run 1,000 kms in 2021 or they donated whilst watching the Abbots Langley G&S Society online concert in June. Travel by train and taxi was getting tricky, travel by car impossible because there's no nearby car park. A door-to-door Uber service was brilliant, thank you!
So, at this point anyone who is likely to feel a bit queasy should probably skip the next four paragraphs.
At the hospital my blood gases were checked (after a tiny needle prick in my earlobe) and my CO2 level was found to be higher than in September. This means I really must use my ventilator every night, and for more than just an hour or two. The problem has been too much saliva in my mouth, leaking from my non-existent lip seal and into the face mask. After a while that gets uncomfortable – it's a bit like wearing a leaky mask when snorkelling in the sea. The other thing is that saliva in the face mask is incredibly itchy for me with a short goatee beard and moustache. Or rather, I did have a short goatee beard and moustache. It's gone. No more itchiness and looking fifteen years younger.
The issue of secretions is complex for people with MND. For some reason you seem to produce so much more saliva. Apparently, we all produce 750 mls of saliva every day (that's a whole wine bottle full! It gets used in eating, and the rest is swallowed throughout the day without being noticed. People living with MND are said not to produce any more saliva (I find that a bit difficult to believe) but the automatic swallowing action begins to fail. A vast amount of saliva in the mouth and drooling and dripping out is bad enough, but it's often accompanied by thick mucus from the lungs – the product of inefficient respiration and a poor cough. The result is a sticky mess.
At the hospital I tried to use a cough assist machine. You hold a face mask and the machine pumps a set amount of air into the lungs quite sharply. It then swiftly reverses the flow and, in theory, pulls mucus out of your lungs. For me to effect was a bit different, it seemed like the air was being pushed into and pulled out of my stomach (which made me feel quite nauseous). There was also a concern that the machine might push saliva (and food debris) into my lungs which inevitably would lead to an infection such as pneumonia.
So, the idea of having a cough assist machine has been put on hold for now while the saliva issue is addressed. Amitriptyline tablets and Hyoscine patches haven't had any appreciable effect on my saliva problem; the next weapon is Botox – injected into four salivary glands around my mouth. I didn't have much time to think or worry about it, the job was done on the spot with amazing efficiency. It doesn't seem to have worked yet but it can take up to two whole weeks to have an effect. Assuming it works, the procedure will have to be repeated every three or four months. Once the botox kicks in I'm going to be re-admitted to hospital for another respiratory assessment – sometime in November with luck.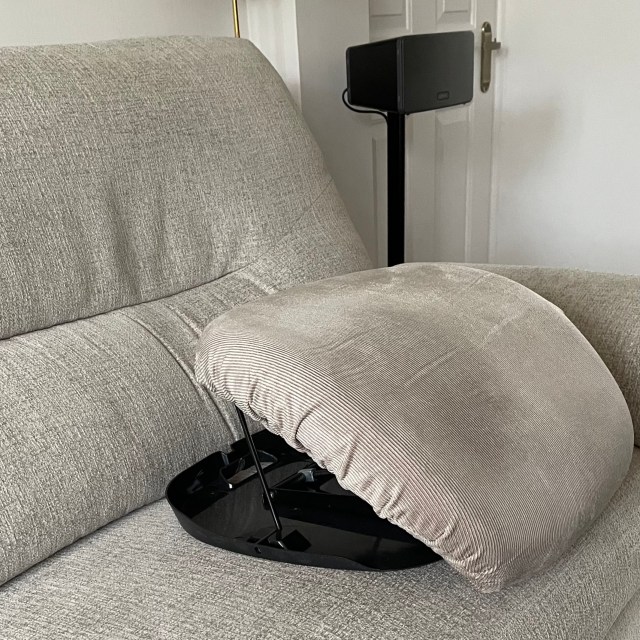 My 'interesting purchase of the month' was an Aidapt Lift Assist cushion – a cushioned seat pad with a gas lift pump inside. You put the cushion on a chair. You sit on the cushion; the pump is compressed and you are lowered onto the chair. You stand up and the cushion gives you a good push on the rear end which helps you to get up into a standing position. We call it my 'ejector seat'. Great for getting out of low chairs without arms – saves the embarrassment (and discomfort) of being hauled around. All we had to was replace the right blue cover with something more tasteful.
Unfortunately, there was no magical solution for the toilet in our bathroom at the lovely Alverton Hotel in Truro. It must have been the lowest toilet pan I've ever used, which made it impossible for me to stand up. Could have been very tricky if I'd been on my own! Fortunately the hotel's accessible facilities were a short distance from our room.
In all other respects our four nights in Truro were wonderful.  A great break and we had dry, warm weather (very unusual for Cornwall in October). The photos (L to R) are of Porthtowan Beach, Godrevy Head and Coverack
A couple of weeks later we closed our static caravan at the end of the season. I wonder if I'll be able to go back in April; I've lost all strength in both arms and hands now, it's painful and tiring for me to type, I can no longer reach my head to wash my hair, and my legs are getting weaker by the day. But I am positive.